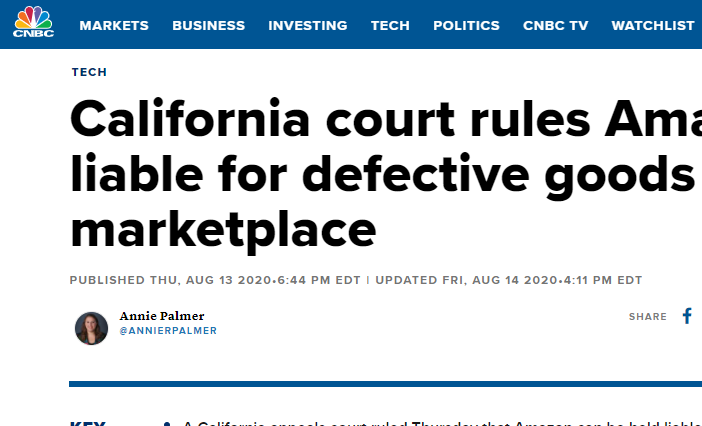 California court rules Amazon can be liable for defective goods sold on its marketplace
A California appeals court's decision could soon make it harder for Amazon to skirt responsibility for unsafe products sold on its platform.
On Thursday, the California Fourth District Court of Appeals ruled that Amazon can be held liable for damages caused by a defective replacement laptop battery that caught fire and gave a woman third-degree burns. The woman, Angela Bolger, alleges she bought the laptop battery from a third-party seller, Lenoge Technology HK Ltd., on Amazon's marketplace.
The ruling deals a major blow to Amazon, which has for years successfully fought off lawsuits that try to place liability on the company for faulty products sold through its site that cause injury and property damage.
"Consumers across the nation will feel the impact of this," said Jeremy Robinson, an attorney for Bolger.
An Amazon spokesperson told CNBC in a statement issued on Friday: "The court's decision was wrongly decided and is contrary to well-established law in California and around the country that service providers are not liable for third party products they do not make or sell. We will appeal this decision."
Read full story: https://www.cnbc.com/2020/08/13/amazon-can-be-held-liable-for-faulty-goods-court-rules.html