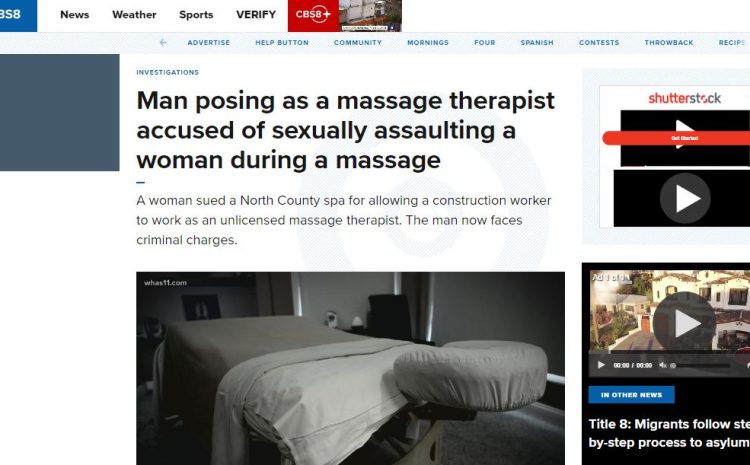 A woman sued a North County spa for allowing a construction worker to work as an unlicensed massage therapist. The man now faces criminal charges.
SOLANA BEACH, Calif. — A spa client at the Solana Spa in North San Diego County says she was sexually assaulted by a man posing as a massage therapist. The man, according to a newly filed lawsuit, was working as a construction worker at the spa when he asked to start giving massages.
In the complaint, the woman, known as "Jane Doe," says she went to the Solana Spa in May 2021 for a Swedish massage.
Workers at the spa told Jane Doe that her massage therapist was late. After waiting for twenty minutes or so, a man identified as Grant Fry according to the civil lawsuit, arrived and escorted the woman to a private room.
Once inside, Fry, says the lawsuit, asked Jane Doe to undress. On the table, Fry then, "took advantage of his position and sexually assaulted and battered [Jane Doe] by lifting the sheet to expose her nude body, repeatedly rubbing the back of his hand against her vulva, then began to rub the outside of her vulva with his fingers."
The lawsuit says the woman immediately objected and Fry apologized.
Following the assault, Jane Doe says she went home and was sickened with fear. While at work the following day, Jane Doe says Fry showed up.
Fry appeared at her work with flowers and apologized for his inappropriate conduct during the massage.
Reads the lawsuit, "Jane Doe was frightened as she had not shared where she worked with Fry and just wanted him to leave."
The woman then reported the assault to the San Diego County Sheriff's Department.
Fry now faces two misdemeanor charges of sexual battery and battery for the May 17, 2021 incident.
Meanwhile, Jane Doe says the assault continues to haunt her.
"The sexual assault that I suffered at the hands of this sexual predator, employed at Solana Spa, has impacted me greatly," reads a statement from Jane Doe to CBS 8. "My sense of well-being and personal safety has been shaken to the core. This event will forever have long-lasting effects on my ability to trust people. Not only was my physical body violated by this predator, but my psyche also continues to feel rattled and unsafe, which causes me extreme mental anguish and fear in all aspects of my life."
Attorney Jillian Hayes represents Jane Doe in the civil case. Hayes says that Fry is not the only party that needs to answer for the harm inflicted on her client, the owners of the Solana Spa need to take responsibility for granting Fry, a non-licensed massage therapist, access to clients and their personal information.
Says Hayes, "As a business owner, Solana Spa owes their patrons a duty to use reasonable care to ensure their customers' safety. The criminal investigation has revealed Mr. Fry was admittedly an unlicensed massage therapist at the time of this horrific assault. Not only did Solana Spa fail to ensure our client's safety by allowing an unlicensed masseuse to work for them, but we believe the further investigation will reveal Solana Spa failed to take any reasonable precautions in vetting Mr. Fry for employment. By filing this civil lawsuit, we plan to hold Solana Spa accountable for the devastating aftermath our client has suffered from as a result of their negligence, and quite frankly reckless decision, in hiring Mr. Fry."
According to Jane Doe's lawsuit, at least one other female client has complained about inappropriate behavior by a massage therapist at Solana Spa.
CBS 8 reached out to Solana Spa for comment. A worker at the spa said the owner is out of the country.
CBS 8 also reached out to Mr. Fry's criminal attorney for comment on the charges against him. The article will be updated with that response if and when it is received.