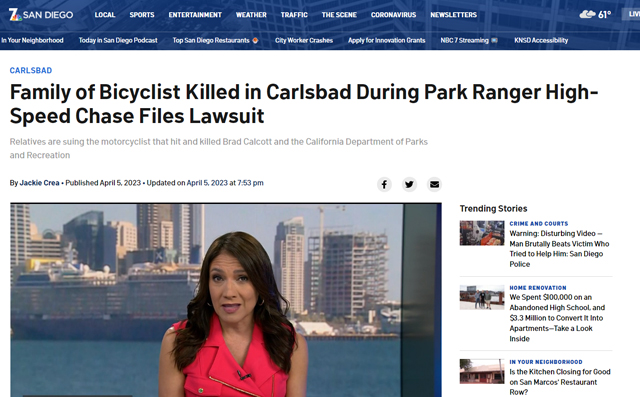 Family of Bicyclist Killed in Carlsbad During Park Ranger High-Speed Chase Files Lawsuit
Relatives are suing the motorcyclist that hit and killed Brad Calcott and the California Department of Parks and Recreation
The mourning family of a 68-year-old bicyclist killed during a high-speed chase in Carlsbad last year has filed a civil lawsuit against those they believe are responsible for their loved one's death.
Relatives of Brad Catcott are suing the motorcyclist that hit and killed him, alleged to have drugs and alcohol in his system, and the California Department of Parks and Recreation. The civil lawsuit includes the park ranger who allegedly initiated the chase that reached speeds of 100 miles per hour.
Carlsbad Boulevard runs north and south along the San Diego County coastline. San Diegans and tourists might drive or ride their bikes from one point to another, taking in the ocean or visiting Carlsbad State Park and Beach. But for one family it's not so scenic as it is tragic.
A certain stretch near Solomar Drive is where the path ended for Catcott.
"Brad Catcott was a beloved brother, uncle, and friend," said his brother, Bret Catcott during an October 2022 arraignment for the now-convicted defendant Eric Burns. "He was an incredible athlete that loved life and lived it to the fullest. He enjoyed spending time with family and friends. He will be deeply missed and should still be here today."
Bicyclist Dies After Being Hit by Motorcycle Involved in Pursuit in Carlsbad
Police said Catcott was riding in a designated bike lane, about to make a turn, when motorcyclist Eric Burns and his passenger hit him. The impact killed him instantly. Court documents describe what happened when Burns was trying to outrun a state park ranger chasing him after a failed traffic stop.
"The defendant not only popped a wheelie on his bike after the police attempted to stop him for speeding, but he also kept driving over 100 mph on Carlsbad Boulevard, ran red lights, and drove erratically," said deputy district attorney Nicolette Estrada.
Burn was sentenced to four years in state prison with 180 days of credit for time served, according to the district attorney's office spokesperson Tanya Sierra.
The Catcott family attorney Jillian F. Hayes, Esq. sent NBC 7 the following statement:
"The civil litigation has just commenced, and the family is still very much in mourning over the tragic and untimely loss of Brad Catcott. Brad was a beloved brother, uncle, and cherished friend to so many people. The void Brad left for these individuals can never be filled. In filing the civil lawsuit, we are trying to find additional answers for Brad's family and friends. For example, what initiated this high-speed pursuit? Was this a necessary and proper high-speed pursuit by the State Parks Officer, and was there a policy or procedure in place to avoid situations like this from happening, and if so, was it followed correctly? The only way to find these answers is through the civil litigation process."
Sierra confirmed to NBC 7 that Burns pleaded guilty on Feb. 14 of this year to one count of evading an officer causing death and admitted to the enhancement of causing great bodily injury. There will be a restitution hearing on April 27.
NBC reached out to the California Department of Parks and Rec for a statement regarding the lawsuit and was advised they do not comment on pending litigation. NBC 7 also reached out to the State of CA Attorney General's office for a comment or any information about an investigation and has yet to hear back.