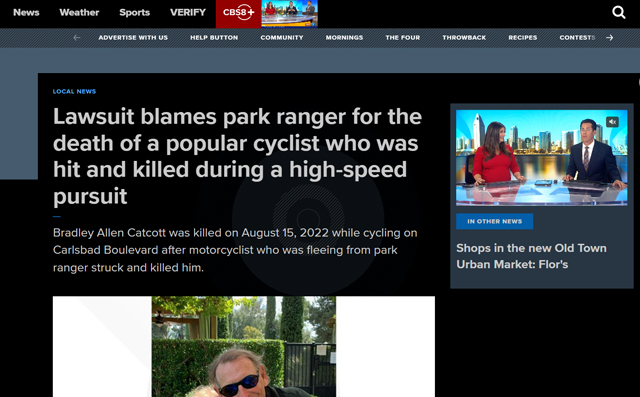 Lawsuit blames park ranger for the death of a popular cyclist who was hit and killed during a high-speed pursuit
Bradley Allen Catcott was killed on August 15, 2022 while cycling on Carlsbad Boulevard after motorcyclist who was fleeing from park ranger struck and killed him.
CARLSBAD, Calif. — The brother of a 68-year-old Solana Beach cyclist who was struck and killed by an intoxicated motorcyclist in the midst of a high-speed chase by a California Park Ranger in August of 2022 is suing the state and the motorcyclist over his brother's death.
On August 15, 2022, Bradley Catcott was riding his bike in the northbound bike lane on Carlsbad Boulevard near Solomar Drive.
Unbeknownst to Catcott, less than a mile south, California Park Officer Timothy Gunther was in a high-speed chase with 29-year-old Eric Monte Burns who was riding a 2021 FXL Harley Davidson motorcycle. Officer Gunther had tried to pull Burns over for speeding but Burns refused to stop.
Instead, Burns fled at speeds reaching up to 100 miles per hour, according to the lawsuit filed by Catcott's brother which was based on statements from Officer Gunther and witnesses at the scene of the collision.
As Catcott was preparing to make a left turn at Solomar Drive, Burns ran into him, sending Catcott flying to the opposite side of the intersection. Meanwhile, Burns, who later failed a blood alcohol test, and his female passenger were also ejected, sliding approximately 400 yards along northbound Carlsbad Boulevard.
Catcott, who according to his obituary worked for the San Diego Unified School District, died at the scene. Burns and his passenger were seriously injured.
Burns was later arrested and pleaded guilty to evading an officer causing death. The District Attorney's Office agreed to drop a charge of vehicular manslaughter and driving under the influence. On March 16, a judge sentenced Burns to four years in prison.
The newly filed lawsuit from Bret Catcott names Burns as well as the parks officer for engaging Burns in a high-speed pursuit, putting drivers and pedestrians at risk.
"Officer Gunther was in uniform and was negligently operating the State Vehicle and was engaged in a wrongful and negligent pursuit of the motorcycle, which directly led to a collision with Bradley Catcott – causing his untimely and tragic death," reads the February 27 lawsuit.
Catcott's attorney, Jim Hayes, tells CBS 8 that while nothing can be done to change the outcome of that day, they want basic answers as to why this happened and what prompted the high-speed pursuit.
"The family is still very much in mourning over this tragic and untimely loss of Brad Catcott. He was a beloved brother, uncle, and cherished friend to so many people. The void that he left for these individuals can never be filled," said Hayes.
"In filing the civil lawsuit, we are trying to find additional answers for Brad's family and friends. For example, what initiated this high-speed pursuit? Was this a necessary and proper high-speed pursuit by the State Parks Officer, and was there a policy or procedure in place to avoid situations like this from happening, and if so, was it followed correctly? The only way to find these answers is through the civil litigation process."
CBS 8 reached out to the State's Parks Department. A department spokesperson said they could not comment on pending litigation.