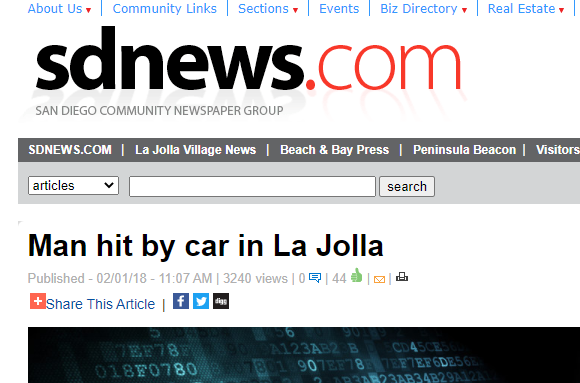 Man hit by car in La Jolla
A 67-year-old man was hospitalized with a spinal fracture and other serious injuries but is expected to survive, after he was hit by a car in La Jolla.The collision occurred on La Jolla Boulevard a little after 7 p.m. on Jan. 31.
The victim in La Jolla was expected to survive despite suffering a fractured back and open leg fracture, Zwibel said. He was walking in the crosswalk of 6900 block La Jolla Boulevard when he was struck by a Kia sedan driven by a 31-year-old man.
Police did not immediately know what caused the collision but do not suspect the Kia's driver was under the influence of drugs or alcohol, Zwibel said. The police department's traffic division was investigating the crash.
Read more: San Diego Community News Group – Man hit by car in La Jolla%20