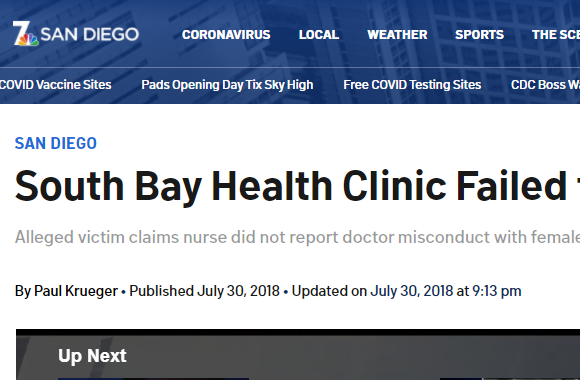 South Bay Health Clinic Failed to Stop Abusive Doctor: Lawsuit
One of San Diego County's largest health clinics is facing allegations that it failed to prevent a South Bay psychiatrist from sexually abusing female patients.
NBC 7 Investigates has been reporting on patient complaints about Dr. Leon Fajerman since July 2017.
"This will help, hopefully, put a stop to any other doctors or psychiatrists who decide to do this with their patient," former Fajerman patient Linda Sanchez said.
Sanchez said she was repeatedly groped and sexually assaulted by Doctor Fajerman from May to July 2017.
After Sanchez first told NBC 7 Investigates her story last year, using her name and showing her face, other women came forward with similar allegations against the South Bay psychiatrist.
"It will empower women to speak up and not be ashamed and just tell their story, just let somebody know," Sanchez said.
Read full story here: https://www.nbcsandiego.com/news/local/south-bay-health-clinic-failed-to-stop-abusive-doctor-lawsuit/49822/