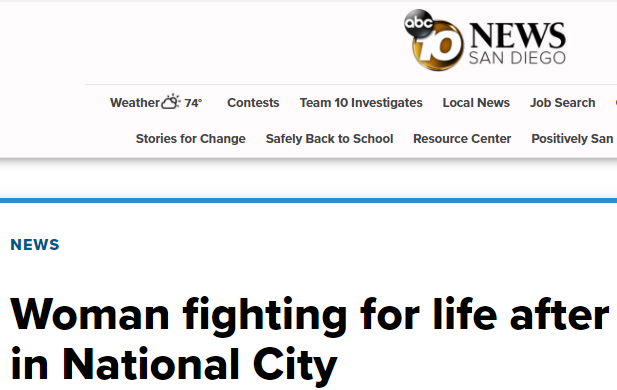 Woman fighting for life after being hit by car in National City
NATIONAL CITY, Calif. — A 24-year-old woman suffered major injuries after being struck by a car while crossing a street in National City late Sunday night near the Plaza Bonita Mall.
At about 10 p.m., a woman was crossing a busy stretch of Sweetwater Road near Paseo De Paz when she was struck by a car. The woman was rushed to Scripps Mercy Hospital in Hillcrest with life-threatening injuries.
The driver remained at the scene and cooperated with the National City police. He was not hurt.
The crash occurred in a dark area where the road curves and the speed limit increases from 35 to 45 miles per hour. The victim was not in a crosswalk.
Drugs, alcohol and speed did not contribute to the crash, police said.