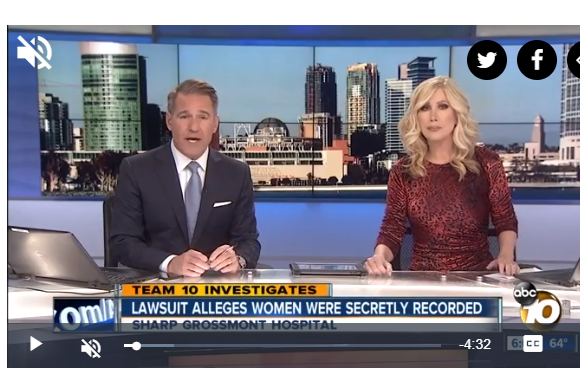 Lawsuit claims women secretly recorded in San Diego hospital
SAN DIEGO (KGTV) – Sharp Grossmont Hospital secretly video recorded 1,800 patients using hidden cameras at the women's health center in El Cajon, according to a lawsuit filed late Friday afternoon.
The recordings took place between July 17, 2012 and June 30, 2013 inside three Labor and Delivery operating rooms at the facility located at 5555 Grossmont Center Dr. in El Cajon, the plaintiffs claim.
Among the video recordings captured by hidden cameras: Caesarean births, hysterectomies, sterilizations, dilatation and curettage to resolve miscarriages, and other procedures, according to court documents. Women were also recorded undressing, the lawsuit says.
According to court documents, the hospital claims the recordings were part of an investigation "into whether an employee was stealing the anesthesia drug propofol from drug carts in the operating rooms."
Read full story here: https://www.10news.com/news/local-news/lawsuit-claims-women-secretly-recorded-in-san-diego-hospital