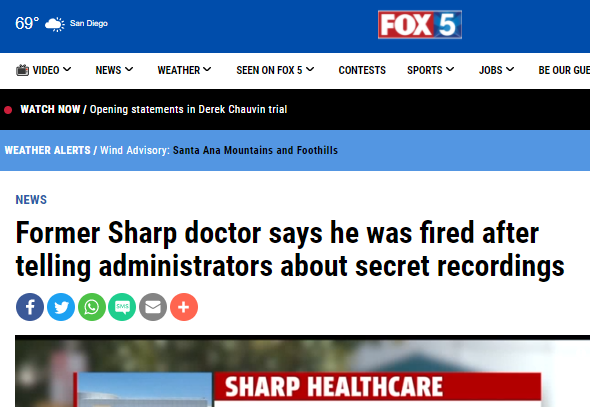 Former Sharp doctor says he was fired after telling administrators about secret recordings
LA MESA, Calif. — Sharp Grossmont Hospital's former chief of anesthesia said Tuesday that he can corroborate claims, alleged in a recently filed lawsuit, that around 1,800 female patients were secretly recorded during sensitive medical procedures in the hospital's women's center.
Dr. Patrick Sullivan alleges that he was forced out of the hospital after bringing his concerns to Sharp leadership that women were being surreptitiously filmed in 2012 and 2013 while undergoing a wide range of procedures such as childbirth and hysterectomies.
A lawsuit filed against the hospital last month on behalf of around 80 women alleges that around 1,800 patients were recorded, a figure Sullivan alleges is accurate.
"This was an intentional act by Sharp to not only to put the secret cameras in the women's center operating room, but then to try to conceal them after Dr. Sullivan discovered them and tried to bring it to the administration's knowledge," said Kyle Pruner, Sullivan's attorney.
Read full story: https://fox5sandiego.com/news/former-sharp-hospital-doctor-claims-corroboration-of-secret-recording-lawsuit/