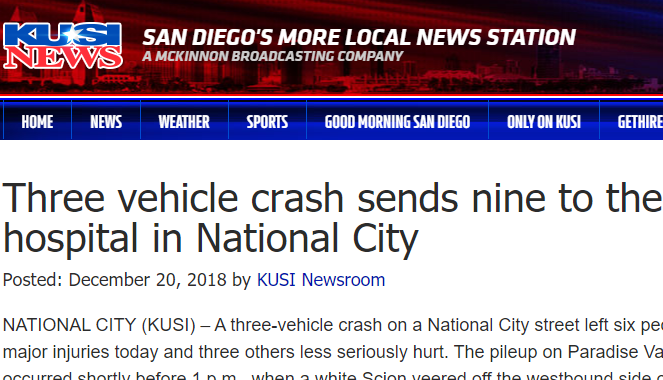 Three vehicle crash sends nine to the hospital in National City
NATIONAL CITY (KUSI) – A three-vehicle crash on a National City street left six people with major injuries today and three others less seriously hurt. The pileup on Paradise Valley Road occurred shortly before 1 p.m., when a white Scion veered off the westbound side of the road at high speed and struck an oncoming Hyundai Sonata east of Plaza Boulevard, according to police.
At least one of those vehicles then hit an eastbound Subaru Crosstrek, Lt. Robert Rounds said.
Emergency crews had to use heavy prying equipment to get two or more of the victims out of the wreckage, Rounds said.
Medics took all nine people involved in the accident — four each in the Scion and Hyundai, and the driver and sole occupant of the Subaru — to hospitals.
Read full story: https://www.kusi.com/three-vehicle-crash-sends-nine-to-the-hospital-in-national-city/